Rafting Late Tour Details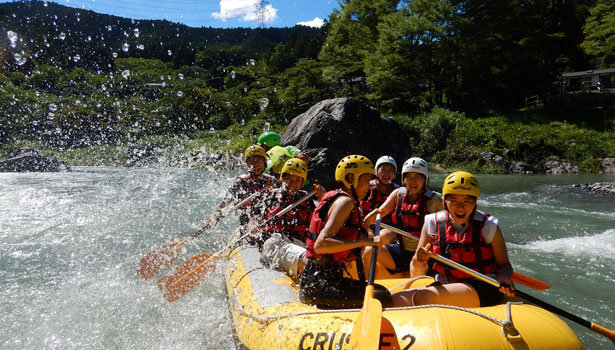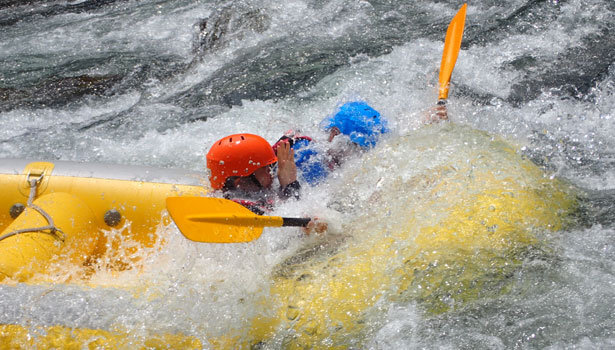 Rafting Late Tour is a limited time tour only provided by Crusoe Rafting. This tour begins at 3:30PM after the AM and PM tours have finished, so you can have a slow start.
Starting warm is late, but you can still experience the exciting waters by working together, jumping from the boulders into the clear waters, and gaze at the beautiful nature that surrounds the river, just like the standard tour!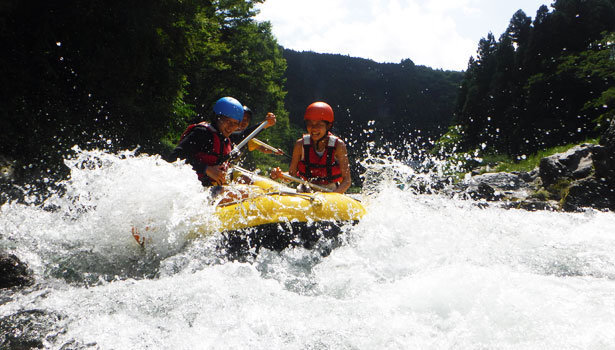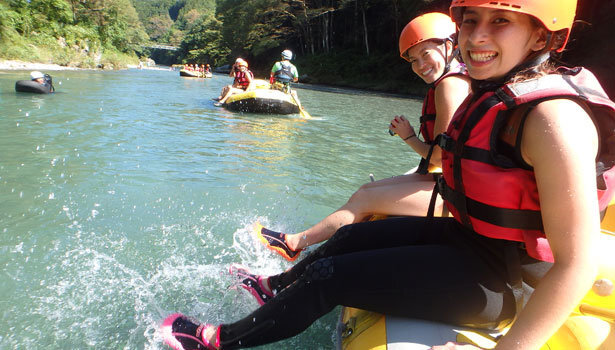 This limited time tour is for you if you aren't quite a morning person.
Season Duration

Every day from 7/15 to 9/10

Course

Late Tour (Rendezvous at 15:30)
Tour duration approx. 2 hours, changing time approx. 30 mins

Rendevous Place

Crusoe Ōme Base
〒198-0063 3-921-6 Baigo, Ōme City
(By train) 5 min walk from JR Ōme Line Hinatawada Station
(By car) 25 min drive from Ōme IC(Ken-O Expressway), 40 min drive from Hachioji IC (Chuo Expressway)

Requirement

Anyone who is healthy and at least Elementary(Primary) School and up

Fee

7/15 - 7/30 , 9/2 - 9/10
Weekdays General ¥6500 / Child ¥5500
Weekends and holidays: General ¥7000 / Child ¥6000

7/31 - 9/1

Every day:

General ¥7000 / Child ¥6000

Above fees are all for one person. General fee is for high school and up.
* Additional ¥500 charge during high season(8/11 - 8/20)

Discounts

Student Discount (Student ID required) -

¥500 off per person

Group6 (6 to 11 people) -

¥300 off per person

Group12 (12 to 17 people) -

¥600 off per person

Group18 (Over 18 people) -

¥900 off per person

(Student discount and group discount can be added together)

* BBQ set is not available for this tour.

Photos

Free Service: Rafting Tour Photos




At Crusoe Rafting, photos taken by guides during the tour will be uploaded in a passcoded online web album. You can see and download photos all for free.

Minimum number of
participants per tour

2 people

What to bring and wear

Musts

Swim wear or change of undergarments
Towel

Maybes (depending on situation)

T-shirt that dries easily or a lycra shirt (For whom that don't need wetsuits during July to September
Student ID (For students)
Glasses strap or goggles (For person with glasses or contact lenses)

* We can also provide a set of swimwear and towels for those who did not bring anything. (Fee is required)

Any gear that is needed on the tour (Helmet, life jacket, wet suit getup, aqua shoes) are all provided and included in the fee. We also have gear for children.

For those who are experienced and have their own gear can bring their own.

Useful Items

Insurance card (Better safe than sorry)
Sunscreen (Only your face and hands will be tan without it lol)

Payment method

For online reservations, advanced payments will be made by credit card.
For reservations by phone, you will pay on-site on the day of the tour.
On-site payments can be made by credit card or PayPay.
Credit cards that can be used for on-site payments are listed below.


PLEASE NOTE

Do not drink alcohol before a rafting tour. Please note in advance that if your guide assesses that a customer cannot participate, you may not be able to participate in the tour.

Insurance

Crusoe's rafting tour covers below insurance fees.

[ Injury Insurance ]

| | |
| --- | --- |
| Death/residual disability | ¥8,000,000 |
| Hospitalization cover | ¥5,000 per day |
| Outpatient treatment cover | ¥3,000 per day |

[ Liability Insurance ]

In addition to above injury insurance, Crusoe Rafting provides liability insurance as well, so you can be prepared.

Cancellation

Rafting tours will still be conducted in case of rain.
If tour is cancelled due to bad weather, we will contact you as below.
- AM tours by 8PM previous day
- PM tours by 8AM on day of tour

Change of tour date is possible until 8 days before the tour, to dates with open lots.
Please note that for cancellations or change in tour date 7 days before or later, there will be a cancellation charge.
Contact us as early as possible if you need to cancel or alter your reservation.

Cancellation policy is listed as below.
▸7-4 days before: 30% ▸2-3 days before: 50% ▸previous day or day of: 100%

* For groups over 18 people, cancellation fee is 30% 14-8 days before (if all persons are cancelled).
Rafting Late Tour Reservation Calendar

Click on the day you would like to reserve your tour. "○" means available, "△" means few slots open, "full" means slots are unavailable.