Staff Introduction
Tatsunori Yanagimoto (Guide Leader)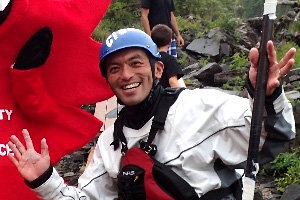 Born in 1976.
I have been a guide and outdoors instructor for rivers all over Japan since 2005.
Using this experience, I started rafting tours so I can introduce how wonderful the nature of my hometown Okutama and Ome is, and how fun rivers can be.
[Qualifications]
Japan Safe Canoeing Association Instructor License / Childcare License
2017

Canoe Freestyle World Championships

representing Japan

2015

Canoe Freestyle World Championships

representing Japan

2012

Japan Canoe Freestyle National Championships placed at 4th

2011

Canoe Freestyle World Championships

representing Japan

2006

Canoe Freestyle Circuit Tohoku Championships placed at 4th

2004

representing Japan

2002

Ocean Rodeo National Championships placed 1st
Guide Staff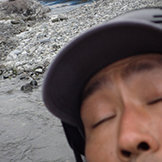 Todo-san
Always an oddly hyper ojisan guide. Makes friends with anyone with his wit and life experience. He is the Chameleon Jigoro of Crusoe.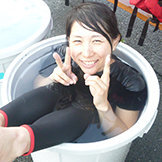 Eri-bō
Came from Gifu to Tokyo. Always receiving criticism-constructive or not- from her sempai guides, but she will persevere!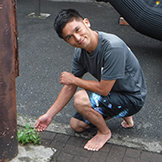 Toshi-kun
This nature-loving man child loves his grass and flowers so much, he spends his alone time in the forests and mountains. His well-trained body makes his paddling technique immaculate. Shihan of Horikoshi Dojo.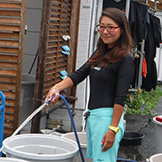 Ai-chan
She's only holding a hose, but exerts an indescribable atmosphere... a very quiet guide. But you don't know what spice she's hiding behind her nice smile...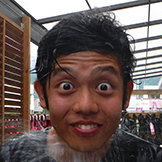 Mash
A handsome gentleman. Third man at Crusoe to represent Japan in the 2017 U-23 Race Raft Championships. He is Yusuke Ogawa's sempai, so you wouldn't want to let him drink alcohol...oops! Not saying anymore.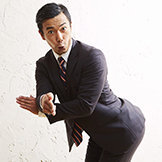 Homare Ishiyama (Homare-kun)
A comedian, but when you least expect it, never delivers. He's actually quite popular for his non-delivery. Loves his video games and river sports, but is also a religious messenger of the divine!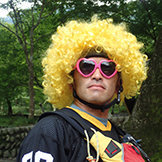 Carlos Afro Toshiki
Third generation Japanese Brazilian. He came to the other side of the world to find his roots, and immigrated to his grandfather's homeland to live as a river person. He loves Japan so much that he's already forgotten his mother tongue, so can only speak Japanese. Please splash water on him...because he hates it.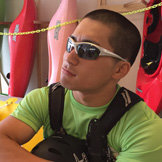 Yusuke Ogawa
Looks tough, but loves flowers. This gentle power race rafter is the second representative of Japan to be in the 2015 U-23 Race Raft Championships. But the instant he gets a hold of alcohol... let's just say, violence erupts.